A non-governmental organization, Nduka Foundation, has rewarded Primary school pupils from Nri and Abagana communities for excellent academic performance.
The award ceremony held at Nri, Anaocha Local Government Area, was to celebrate pupils who took first, second and third positions in examinations organized by the foundation for pupils from five primary schools in Nri and eleven primary schools in Abagana.
Correspondent Blessing Uchendu reports that Nduka Foundation is a charity organization that helps indigent children, widows and other less privileged members of the society through academic scholarships.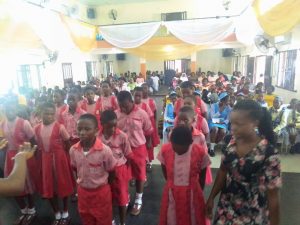 The foundation also promotes gender sensitive education and offers scholarships to physically challenged students, as well as rehabilitates mentally challenged persons.
Speaking at the event, the President of Nduka Foundation, Dr Chinwe Nduka, represented by a former President General of Nri Progress Union, Chief Frank Oraekie, said that the awards were to encourage the pupils to become outstanding in academic pursuit and assured that more students would benefit in subsequent editions.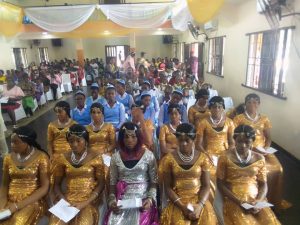 On his part, the Executive Chairman, Anambra State Univeral Basic Education Board, Chief Patrick Ugboaja, represented by the Permanent Board member, Mr Okey Adichie, said that Anambra State is acclaimed for educational excellence in Nigeria and urged other well-to-do individuals in the society to emulate the benefactor.
Coordinators of the foundation, Chief Emma Okafor and Reverend Sister Rona Onwuadi, in their remarks, said that by rewarding the students, the foundation is giving them every necessary tool to succeed and give back to their families and society.
In their various remarks, the Chairman on the occasion who is also the President General of Abagana Town Union, Sir Ikem Onwuadi, the President General of Nri Progress Union, Chief Kelvin Obiegbunam, Mrs Fransisca Officha and Chief Pascal Oraekie commended the foundation for the humanitarian gesture, noting that the recognition would motivate the pupils to realize their full potential.
The overall winner, Miss Nmasichukwu Okafor, from Saint Mark's Primary School, Abagana and her mother, Mrs Christiana Okafor thanked the organizers of the event for the great honor and promised to continue to study hard.
The event featured presentation of certificates and cash prices to the benefiting pupils and teachers from both Nrị and Abagana communities and performance by students.