Rotary Club of Awka Nnamdi Azikiwe University has planted twenty-two hybrid environment sustenance trees to commemorate the 2021 World Tree Planting Day.
The trees, planted within the premises of Anambra Broadcasting Service, Awka was also aimed at promoting Rotary Club International's seventh area of focus which centres on sustaining the environment.
Annual tree planting exercise, along with other human and environment-focused activities are part of Rotary Club International's corporate social responsibility and a defining foundation of the association.
In his remarks shortly before planting one of the trees, the Minister of Agriculture and Rural Development Alhaji Sabo Nanono represented by the Anambra State Director, Chief Arthur Mbuba, said that the exercise was remarkable because of its focus on environmental protection which also falls within the work reference of the Ministry, and commended Rotary Club of Awka Nnamdi Azikiwe University for the smart idea.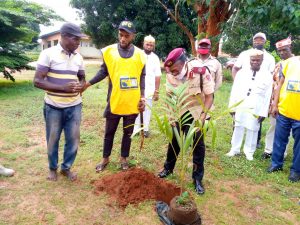 On his part, the Archbishop Ecclesiastical Province of the Niger and Bishop of Awka Diocese, Most Reverend Alexander Ibezim, represented by the Administrative Secretary of the Diocese, Venerable Rex Kanu, noted that the exercise was exemplary and should be sustained because of its long-term benefits.
In their separate remarks, the traditional ruler of Umueri, Igwe Ben Emeka and his Awka counterpart, Obi Gibson Nwosu, represented by one of his cabinet chiefs, Chief Nweze Okoli, applauded Rotary Club of Awka Nnamdi Azikiwe University for taking an important step towards environmental rebuilding, observing that the trees will be beneficial in so many ways.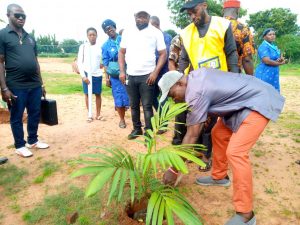 Speaking further on the purpose of the exercise, the President of Rotary Club of Awka, Nnamdi Azikiwe University, Rotarian Abuchi Nwozor, said that the aim of the outing was to answer the global call for a safer environment considering the climatic and environmental benefits of trees, adding that the exercise will also be carried out in some schools within Awka Metropolis.
Rotarian Nwozor who noted that Rotary Club International stands as a bridge builder between the people and their environments by promoting global safety in every sphere of life, said that he believed that the trees will serve both aesthetic and environmental needs of the ABS.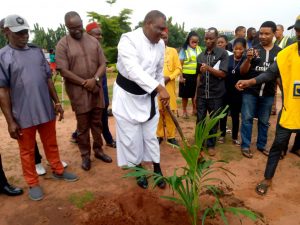 Others who participated in the tree planting exercise included representatives of the Federal Road Safety Corps, Anambra State Command, National Environmental Standards and Regulations Enforcement Agency, NESREA, Nigeria Erosion and Watershed Management Project, NEWMAP, Anambra State Ministry of Environment, Girl Guide Association, Anambra State, as well as other notable individuals from within and outside Rotary International.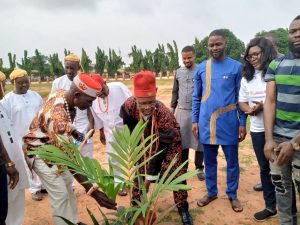 The District Governor of Rotary Club District 9142, Dr Okey Okonkwo was represented at the occasion by the Assistant Governor of zone ten, Rotarian Olachi Emegakor.