The Speaker, Anambra State House of Assembly, Right Honourable Uche Okafor has called on the Federal Road Safety Commission, FRSC, Anambra State Command to  organize more public enlightenment programmes on safe road usage to arrest road crashes.
Chukwuemeke Modilim reports that Right Honourable Okafor made the call when the state Sector Commander, Mr. Adeoye Irrelewuye paid him a courtesy visit at the state House of Assembly.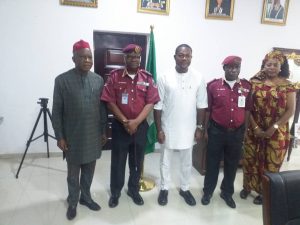 Right Honourable Okafor noted that with the agency's continuous public enlightenment on the dangers inherent in neglecting road safety rules and signs, Anambra State will have minimal crashes.
He stressed the need for the FRSC to ensure that motorists in the state have certified driver's license.
The speaker applauded Governor Willie Obiano for all the supports he has been rendering to the FRSC, which according to him, enabled the command to discharge its duties creditably.
On his part, Mr. Irrelewuye explained that he came to appreciate the lawmakers and Governor Obiano for partnering the commission in ensuring road safety across the state.
He maintained that the commission has always sensitized the public on safe road usage through enforcement of road safety rules, public enlightenment programmes and road transport safety standardization scheme among others.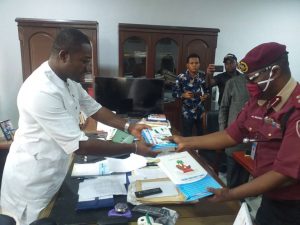 In a vote of thanks, the Clerk of the house, Mr. Pius Udoh noted that since the establishment of the FRSC in 1988 by the federal government, road crashes have reduced to the barest minimum.