The Anambra State Command of the Nigerian Security and Civil Defence Corps, NSCDC has arrested four persons carrying petroleum products suspected to be adulterated.
The Anambra State Commandant, Mr. Vincent Ogu, disclosed this in Awka while briefing journalists on their recent breakthroughs.
According to Mr. Ogu, some of the suspects, including one Sunday Nwaogu, thirty-seven, from Imoha Mgbidi, Imo State, was apprehended by the anti-vandalism team of the command at Ihiala with white Hiace bus, filled with suspected Automotive Gas Oil, AGO, stacked in sixty-seven cellophane bags while one Tochukwu Okonkwo, thirty-seven, from Eziowelle in Anambra State was apprehended conveying AGO of approximately twenty-seven bags stacked in a Nissan Quest bus.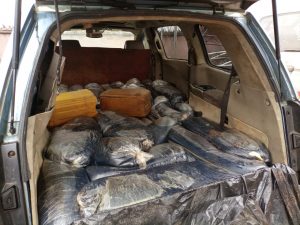 Others are Ejike Nelson, forty-two, and Emeka Okolo, forty-five, both from Egbema in Imo State but were arrested at Ihiala on their way to deliver adulterated kerosene product of approximately fifty bags in a Nissan bus.
The NSCDC boss also noted that the petroleum products, suspected to be adulterated AGO, otherwise known as Diesel, and kerosene were all concealed in cellophane bags and plastic cans as a way of smuggling them in and bypassing security agents.
He disclosed that based on their strong partnership with the Department of Petroleum Resources, DPR, samples of the products have been taken for necessary tests after which the suspects would be arraigned in court on completion of on-going investigation.
The Anambra State NSCDC Commandant noted that the arrest should serve as a deterrent to other criminally minded persons in the state.
He regretted the perceived operational sabotage in fighting illegal activities in the state and at the national level, assuring that the command would sustain its force in flushing out criminality and solicited for stronger partnership and support of the public in executing NSCDC's mandate and constitutional responsibilities.