The Board of Directors, Anambra State Community and Social Development Agency-Additional Financing, has charged members of the agency to replicate their zeal, commitment and dedication in the implementation of their new project, Nigeria CARES.
The chairman of the Board, Igwe Roland Odegbo of Nteje gave the charge while presenting "Meritorious Service Award" to the management and staff of the agency during the Board's twelfth Statutory meeting, held at the agency's conference hall in Awka.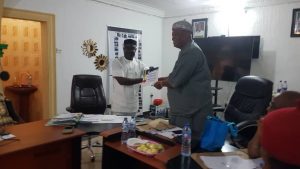 Correspondent Ebele Ezeh reports Anambra State Community and Social Development Agency is a World Bank-assisted project that completed two hundred and fifty micro projects, scatted across the benefiting council areas of the state within twenty months of its remaining life span before Governor Willie Obiano  paid cash counterpart funds that availed the state the opportunity to benefit from the project.
Presenting the awards, Igwe Odegbo lauded the agency for achieving quite a lot, and making impacts in the communities despite starting very late.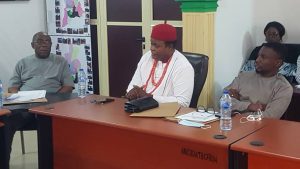 The Commissioner for Economic Planning, Budget and Development Partners, Mr. Mark Okoye, who spoke through the Permanent Secretary in the Ministry, Dr. Daniel Ezeanwu, reminded them that the work ahead is one that calls for more commitment and assured the readiness of the Ministry to provide all financial and logistics assistances they may need, even as he commended them for making the state proud
Speaking earlier, the General Manager, Anambra State Community and Social Development Agency, Mr. Chudi Mojekwu, who thanked the board for approving the award said the litany of achievements would not have been possible if not for the enabling environment created by Governor Obiano.
Speaking on behalf of the awardees, the Operation Manager, Anambra State Community and Social Development Agency, Mrs. Augstina Nwizugbo, who said that they were not expecting the award, noted that it will go a long way to motivate them to do more in their new project.
Presentation of the award to every staff of the agency, climaxed the twelfth statutory Board Meeting.